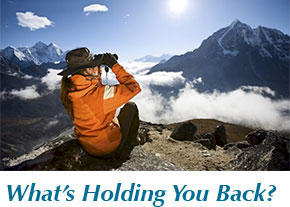 • Not attracting enough new patients?
• Ineffective patient education?
• Patients not completing treatment programs?
• Can't seem to sell full treatment programs?
• Too many cancellations or scheduling problems?
• Finding bright, willing and trainable employees?
• Getting your patients to send in referrals?
• Poor organization or administration
A nice facility, great staff, tons of healthy, happy patients, excellent word-of-mouth and a solid bottom line, this vision and the ability to accomplish it all seemed very real. Then somewhere along the way, maybe it all started to seem out of reach, unrealistic or you simply lost sight while having to handle the day-to-day challenges of running a small business.

Let's face it, you have absolutely no lack of tools and knowledge to guide your patients from a poor state of health to the peak of well being.

But where do you turn for help and guidance to the peak of your practice goals?

Where is your guide map to gain control of your business and achieve more growth in 2011?

We can help! As part of your team, we will help you to boom your production and boost your bottom line with actual standardized tools, implementation, administrative training, business coaching and performance accountability.